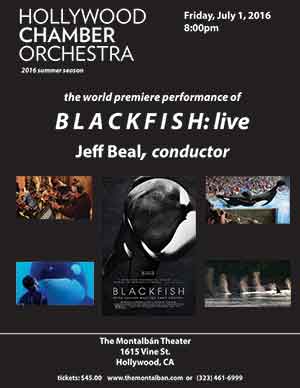 Date:
Friday, July 1, 2016
Time:
8:00 PM
Location:
Montalban Theater (Los Angeles, CA)
Hollywood Chamber Orchestra music directors Noah Gladstone and Mark Robertson announced that Emmy-winning composer Jeff Beal will conduct the world premiere of his acclaimed score to the 2013 documentary film Blackfish, live-to-picture, on Friday, July 1, 2016, at the Montalbán Theater in Hollywood.
Blackfish premiered in competition at the Sundance Film Festival in January 2013, and has since captivated audiences around the world. After Magnolia picked up theatrical rights, it was one of the first projects selected by CNN to be distributed via their 24-hour news channel, with Netflix chosen to stream the film in the U.S. and abroad. Not only has the film received universal critical acclaim, it has also ignited a worldwide discussion regarding orca captivity.
Composer and guest conductor Jeff Beal, an Eastman School of Music graduate, has been nominated for 15 Primetime Emmy Awards, winning four times for his work on Nightmares and Dreamscapes, Monk, The Company, and most recently, House of Cards. He has also scored the films Appaloosa, Pollock, and The Queen of Versailles. He has provided music for the upcoming films Weiner, The Champions, and HBO's My Promised Land.
Buy Tickets Facebook The Montalban Theatre