HCO with violinist Nathan Cole and the world premiere of Jeremy Turner's "Five Came Back" Suite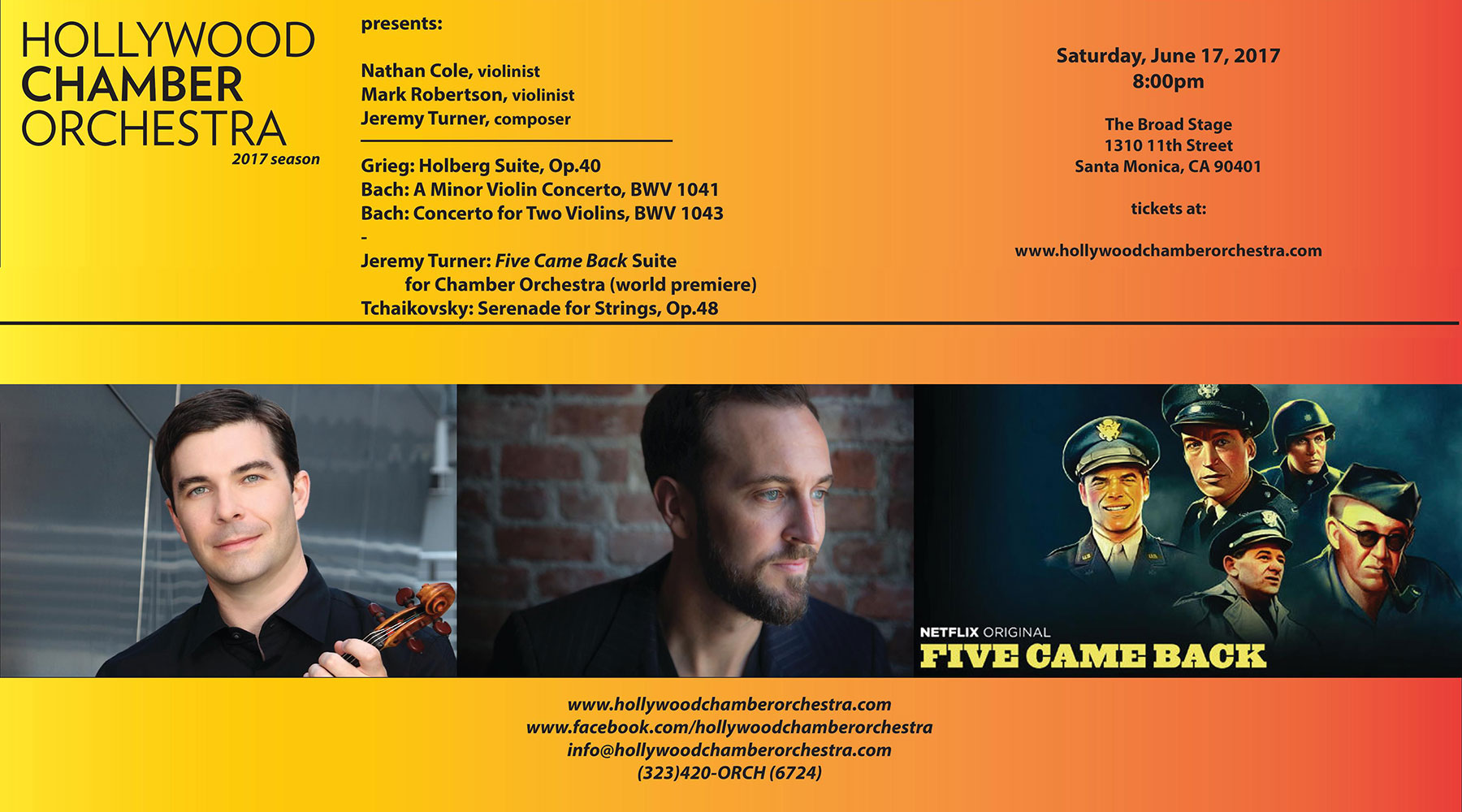 Date:
Saturday, June 17, 2017
Time:
8:00 PM
Location:
The Broad Stage (Santa Monica, CA)
Violinist Nathan Cole and composer Jeremy Turner join the Hollywood Chamber Orchestra in a performance including works by Bach, Grieg, and Tchaikovsky; plus a special world premiere performance of "Five Came Back: Suite for Chamber Orchestra", commissioned by the HCO, and composed and conducted by Mr. Turner. "Five Came Back," a documentary directed by Laurent Bouzereau, was based on a book written by Mark Harris (who also wrote the screenplay) and recently premiered on Netflix to rave reviews. it is currently 100% at Rotten Tomatoes. This world premiere suite was written for a slightly expanded chamber orchestra featuring highlights from the original score.
Nathan Cole, First Associate Concertmaster of the Los Angeles Philharmonic, will perform Bach's A Minor Violin Concerto; and will be joined by HCO music director Mark Robertson on Bach's memorable Double Concerto. Bookending the program are Grieg's Holberg Suite and Tchaikovsky's Serenade for Strings, both of which will be performed without a conductor.
Program
Grieg, Holberg Suite, Opus 40
J.S. Bach, A Minor Concerto for Violin & Orchestra, BWV 1041
J.S. Bach, Concerto for Two Violins & Orchestra, BWV 1043
Jeremy Turner, Five Came Back: Suite for Chamber Orchestra (world premiere)
Tchaikovsky, Serenade for Strings, Op.48
Tickets: $50 – $125
Buy Tickets About Jeremy Turner About Nathan Cole
Tags: Grieg, J.S. Bach, Jeremy Turner, Mark Robertson, Nathan Cole, Tchaikovsky